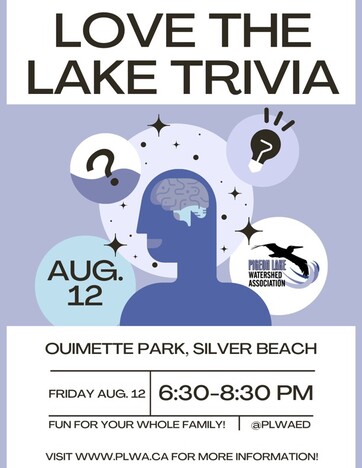 The Pigeon Lake Watershed Association (PLWA) is excited to bring Love the Lake Trivia to the Summer Village of Silver Beach!
The evening will begin with a fun, interactive trivia session (suitable for all ages) that is aimed towards teaching community members all sorts of things about Pigeon Lake and our watershed! Make sure to study up as there are prizes on the line!
The trivia activities will be followed by a special presentation from a Silver Beach community member that showcases their talent for storytelling!
Bring your friends and family out to Ouimette Park on August 12 from 6:30-8:30pm for an evening of community fun!
Please bring lawn chairs, blankets, or something else to sit on as seating will not be provided.
If anyone has questions regarding this event, please email: plwaprograms@gmail.com